Your Next Stamp Hop Click HERE
Whimsy New Digi Release Post Click HERE

Good Morning Everyone, Happy Thursday!!!! Its time for another FABULOUS Meljen's Designs Release!!! Brand New Images are
AVAILABLE NOW
at the Whimsy Store...Come on over and check them out
HERE
.
Today I wanted to share with you a creation I made with this adorable new image
Fall Ball Teddy Bear
.... EEEK he is just sooo cute...I just had to make him our school colors!!! I thought this card would be perfect for my sweet all star boys :) Hope you enjoy my creation today!!!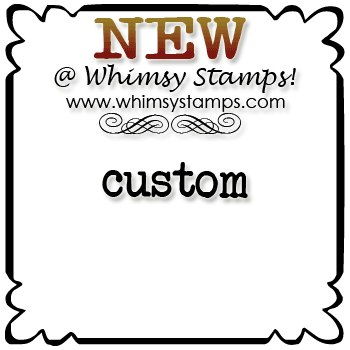 There is some more EXCITING NEWS about Whimsy Stamps. Whimsy is going to start selling Custom Rubber Stamps!!!! September 8th at 10 AM you will be able to purchase this brand new product.....So far we will have 35 separate designs for you to chose from...How AWESOME is that....!!!!!
Here is the stamp I had made for myself. (Ann Vento is AMAZING)..No more signing the back of my cards..I now have a stamp..Hope you like it!!! :)
Thanks so much for stopping by today and I hope everyone has a WONDERFUL Thursday!!!!
Here's the Recipe
Image - Whimsy Stamps - Printed, Colored with Copics, Cut out, and Popped Up
Sentiment - Computer Generated
Paper - Whisper White, Basic Black, Brillant Blue, Chippewa Designer Paper (our school)
Accessories - Star CB Folder, Sewing Machine, Bling, Nesties, Ribbon, Charm, Stick Pin, Football Sticker