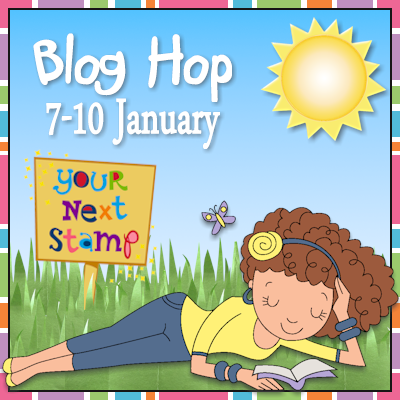 Welcome to the Your Next Stamp January New Release BLOG HOP!

We've got some fabulous new YNS stamps to showcase today! These new stamps are available to buy right now from the Your Next Stamp store along with all your YNS favourites. We also have two wonderful guests joining us for our hop - the amazing Angela Wood and Jen Del Muro.

If you would like to participate in the hop and you didn't arrive here from Jenny's blog, please CLICK HERE to return to the start of the hop at Wendy's blog, as you don't want to miss these fab new releases!

The hop starts today (07 January 2011 at 03:00 EST) and ends on 10 January 2011 at midnight EST.

As always here at Your Next Stamp, we have a wonderful prize for you to win! One lucky winner will be drawn at random from the links in the linky list to receive a new release stamp package!

You will see that every stop along the hop has a linky list - this is the SAME linky list posted on every blog, so that you can enter the prize draw from any stop (although we hope you will visit all the blogs on today's hop!). The linky will update itself on everyone's blog when a link is entered - how cool is that? Please remember to only enter your name ONCE into the linky list during the hop - you do NOT need to enter your name at every stop and multiple entries will be removed. It's not a requirement for you to comment at every stop along the hop to be eligible to be entered into the prize draw, but the DT would sure love to hear what you think of their new release creations!

Karen is also running some special promotions, so be sure to hop on over to the YNS store once you've finished the hop. There is a fab clearance section, where you can grab a bargain or two, and Karen has also put together some special-priced bundles!!

Today I would like to share with you this fun set I created using this DARLING NEW image Teen Girl Reading. I just LOVED working with this image!!! I decided to create a fun set for a teen or preteen girl. I made a bookmark, a fun clipboard that I altered to take notes with, and a card to complete this special girl a gift......Hope you enjoy my creations today!!!


Hope you enjoyed my creation today!!!!!

I also entered this in the following challenges:
Stampin B's - Old and brand new - old is clipboard and fibers, new is my new stamps
Cute Card Thursday - Old Stash - Clipboard and Fiber
Mark's Finest Paper - To use something new - My stamps
Fab N Funky - Anything Goes
I did it Creations - FAV technique - coloring with copics, sewing, and altering
Cardmaking Mamas - Something Girly
CES - Anything Goes
Craft Your Passion - Anything Goes
Paper Take Weekly - Anything Goes
Ladybug Crafts Inc - Anything Goes
Tuesday Throwdown - Embossing
Victorine Stamps - Anything Goes

Here is a complete blog hop list in hopping order:




So now it's time for you to hop on over to our VERY TALENTED Simonne's blog as she is the next stop on our hop, but I'd love it if you left me a comment before you go!

Thanks so much for hopping with us today! I hope you enjoy our new release!